By Yehuda Geberer & Dovi Safier
For Herman Hollander — a German Jewish refugee who became a Vaad Hatzalah activist — and his wife Grace, the dramatic news in late 1944 was a call to immediate and decisive action.
A window of opportunity had opened to ransom large numbers of Jews from Nazi captivity. Former Swiss politician Jean-Marie Musy, at the behest of Recha Sternbuch of St. Gallen, contacted an old acquaintance of his: SS chief Heinrich Himmler. An offer was relayed to deposit huge sums of money if Jews were released. These negotiations offered a glimmer of hope to save some of the remaining few thousands of Jews still living under Nazi occupation.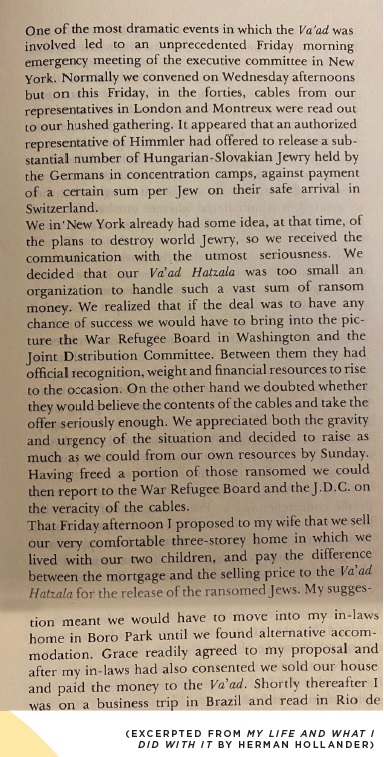 Serious doubt remained as to whether Himmler would keep his word, or whether the rescue funds would even be permitted to reach Axis territory. Nonetheless, the Hollanders could not pass up an opportunity to save lives! With a sense of alacrity, they sold their hard-earned, newly acquired Brooklyn abode, with the proceeds benefiting the life-saving work of the Vaad Hatzalah.
Contemporary Counterpart:
At a crucial dinner for Yeshivas Mir Yerushalayim in 2013, noted philanthropist Shlomo Yehuda Rechnitz inspired the overflow crowd with the account of how, as a young businessman, he borrowed funds from a friend so he could fulfill a significant pledge he'd made to his rosh yeshivah, Rav Nosson Tzvi Finkel ztz"l.
Did You Know:
An important leader in the American Mizrachi, Herman Hollander settled in Israel in 1948, where he was immediately appointed as the first director-general of Israel's Ministry of Trade and Industry, a position he would hold for decades.
(Originally featured in Mishpacha Magazine, Issue 808)